A LOT of things have happened since we last updated – so many things that it would be too boring to read about :) So I, (Olivia) have sorted what has happened in the last months into "pre-Step 1 exam" and "post-Step 1 exam" in 25 photos:
Most days leading up to May 4th, looked like this:
1. Wow, microbiology has never looked so beautiful!
2. Studying, studying, EVERYWHERE (Including the car dealership….)
3., 4., 5., Kyle's parents came to visit one weekend, so after I packed in my studying for the day, we did fun things like Trader Joe's trips, walks around Green Lakes Park, and spending time with his dog, Quincey (who made the 10 hour drive!)
6.,7., Vietnamese food was found ($5 banh mi!) and also made at home with Marissa who briefly came to visit when flying out to Chicago :)
8. AND THIS STUD STARTED WORKING AT ERNST & YOUNG!
AND THEN STEP 1 HAPPENED – and after 7 hours of testing with intermittent breaks – I emerged victorious (well, this unknown – I have not received my score yet….)
And then all the crafts happened:
9., 10., 11., Two dresses were made (I'm not very professional, I shouldn't quit medical school), many coasters were engraved at the Fayetteville Free Library :)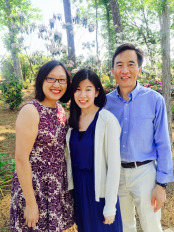 12., 13., 14., 15., 16., I went to Atlanta for a week to visit my parents' new home and to help them unpack. We ate (way too many) delicious things, went shopping, and celebrated Mother's day. I did miss Kyle, but I thought of him while doodling with my new pens (If only he needed a girly logo), and thought of him while attempting to wash our favorite stuffed animal without burning her tail in the dryer again (No bisons were harmed in the taking of this photo either).
17., 18., Before returning to Syracuse, I made a quick stop in NYC to visit Amanda! It was so wonderful to see her again – we had so much fun doing so many things, that I forgot to take a photo with her, so here's a photo of NYC at night from a roof top and a dinner we cooked together using Blue Apron! :)
19., 20., 21., I came back to Syracuse, went to orientation, and hung out with Kyle who had not died of starvation while I was gone! We went to a new restaurant called Core, which was pretty delicious for being so healthy ;) ! We also went to the zoo and couldn't resist buying a red panda at the gift store….. (cute stuffed animals are our weakness) and it has since been dubbed "Sad Panda" because it's face is just so sad. To top it all off, we went to a Syracuse Chief's game which ended up being FREEZING (45 degrees is not warm…) but it was still a lot of fun and very cool to sit only 3 rows away from the field. Somehow I am warming up to baseball, but I think I need my brain space for school.
22., 23., 24.., 25., – Cornell graduation and Marissa's birthday happened! It was a crazy jam packed weekend in Ithaca celebrating the class of 2015 :) Please see my mom's facebook pictures for exactly what occurred (we took way too many photos). It was wonderful to celebrate and enjoy time with family and friends without feeling the pressures of school.
---
I begin my third year of medical school TOMORROW, which means rotating through the hospital and trying out all of the different fields :) While I'm very excited, I'm also nervous about the new changes. I often hate starting new things, and wish I could skip over the steep learning curve beginning, but I know I will adjust and learn so much from the patients whose care I'll be involved with! Please keep Kyle and me in your prayers as we go through this new transition of me working in the hospital + the beginning of his weekly travels for work!